Today's writing started off slow and I didn't expect to write as much as I did yesterday. And then I wrote almost twice as much, but it took me a very long time. Just as well I don't have much on at the moment.
Things are going smoothly at the moment, but I don't expect it to last. I really love this story and I already have ideas on how to revise it. I'm making notes in Scrivener's notes section as I go along with those ideas, especially regarding how to make my two protagonists, Eira (Snow White) and Tesana (Sleeping Beauty) fall in love more realistically. I'm hoping to get this draft done in October so I can do something else for November and come back to this once that draft is done. I'm thinking I might go with my zombie-killing cheerleaders for NaNoWriMo, which will be nice, since a previous version was actually my first ever NaNovel back in 2011.
Anyway, that's a while off.
I've decided to jump into @simmeringmind's #WIPjoy on twitter a little late, so here's the questionnaire and my first three responses: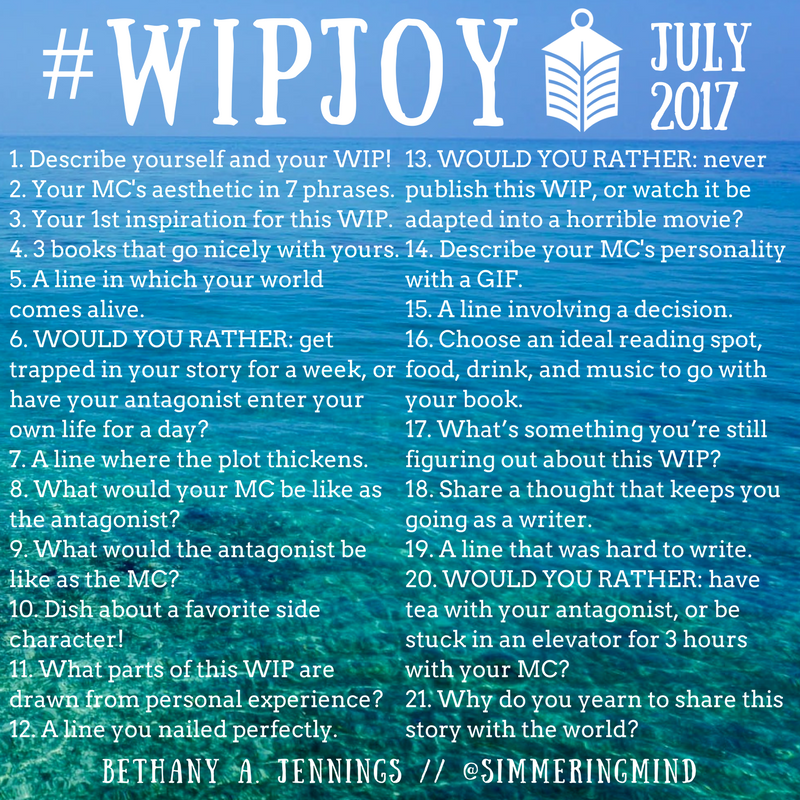 And here's my obligatory excerpt, from Eira's POV:
The water slaps the sand a little closer than previously. Tesana squeaks and stumbles into me.

"It's just a little water," I tell her, doing my best not to laugh. So much for the regal princess. "Let's go in, just a little bit."

"I fell in the water the one time I was in the port city," Tesana admits.

"Everyone does that at least once as children," I reply. I squeeze her hand. "Come on. We'll only go in a little bit. If it's too much, we'll get out. Okay?"

"Oh, fine. It's not like I can die here anyway. Or, well, I don't think I can."

I lead her into the water and she picks up her dampened skirts with her free hand. "You are a bad influence, thief."

I let go of her hand and wave it above my head as I bow. "At your service, my lady."

Tesana kicks water into my face before I can straighten up. I kick some back.

"Fooled you!" she shrieks, backing in deeper until she can get her hands in, worry about her skirts abandoned. She throws more water at me. She was never truly afraid at all.

"You missed your calling," I tell her, throwing water back. "You could've been an actress."

"I get it from my mother." She grins down at me and my brain shuts down, just for a second. Just long enough for words to fall out of my mouth.

"Is she as pretty as you, too?"

"Prettier." Tesana takes my distraction as an opportunity to lift me up and throw me into the deeper water. I have just enough presence of mind to shut my eyes before I go under. It's not all that deep, so I find my feet and then the surface in seconds.

Tesana's quite strong. Then again, I have always been on the small side and she is the tallest girl I have ever seen. And her smiles could stop rampaging whales in their tracks.

They certainly work on me. She's beaming, the weight of those years alone here falling off her like, well, water. It leaves her positively radiant. The most beautiful thing I have ever seen. Prettier than the shiniest diamond, the brightest emerald. The kind of beauty people would willingly die to protect.

In that moment, right before she throws more water at me, I know exactly what is happening. Eira, Princess of Thieves, the charming—shut up, I am charming—the charming rogue who can woo a lady out of her valuables with nothing but words… is falling in love.

I'm in a world of trouble.
I'm weirdly proud of that second last paragraph. We'll see how long that lasts.