So I'm going to take part in a Christmas Readathon set up by author Julia Ember.
I'm aiming for the basic winning category, which I'll let Julia describe herself as it stands on her website:
To compete at Reindeer level, you will need to read one of the books from each of the categories listed later in this post, as well as one *wild card* entry from any category. This is a total of Six Books in Twelve Days. You will need to read these books as well as review them on a blog, GoodReads and another retail website. Everyone who completes those steps will be entered in the draw to win the Reindeer prize of a $35 Amazon Card or equal credit at the Bookstore of their choice. 
There's also the Badass Santa competition where the person who racks up the most points (by reading and reviewing books and posting Instagram photos) wins a mini-trophy and a $75 Amazon Card or equivalent at their choice of bookstore. I'm… probably not gonna beat out every single person in an entire competition of voracious readers when I'm struggling just to get my hands on enough books to satisfy Reindeer level. Some eBooks are expensive enough that you may as well just buy the paperback and sometimes you don't know when the hell any paperbacks you order will actually show up. Being Australian is FUN!
Anyway, here's what I'm planning (HOPING) to read as my core reading list:
As I Descended by Robin Talley
Category: Published 2016
Retelling of: Macbeth
Format: Paperback (already owned, fortunately)
Maria Lyon and Lily Boiten are their school's ultimate power couple—even if no one knows it but them.

Only one thing stands between them and their perfect future: campus superstar Delilah Dufrey.

Golden child Delilah is a legend at the exclusive Acheron Academy, and the presumptive winner of the distinguished Cawdor Kingsley Prize. She runs the school, and if she chose, she could blow up Maria and Lily's whole world with a pointed look, or a carefully placed word.

But what Delilah doesn't know is that Lily and Maria are willing to do anything—absolutely anything—to make their dreams come true. And the first step is unseating Delilah for the Kingsley Prize. The full scholarship, awarded to Maria, will lock in her attendance at Stanford―and four more years in a shared dorm room with Lily.

Maria and Lily will stop at nothing to ensure their victory—including harnessing the dark power long rumored to be present on the former plantation that houses their school.

But when feuds turn to fatalities, and madness begins to blur the distinction between what's real and what is imagined, the girls must decide where they draw the line.

From acclaimed author Robin Talley comes a Shakespeare-inspired story of revenge and redemption, where fair is foul, and foul is fair.
Char by Kristina Wojtaszek
Category: Protagonists of Colour
Retelling of: Hansel and Gretel
Format: eBook
Fire is never tame—least of all the flames of our own kindling.

Raised in isolation by the secretive Circle of Seven, Luna is one of the few powerful beings left in a world dominated by man. Versed in ancient fairy tales and the language of plants, Luna struggles to control her powers over fire. When her mentor dies in Luna's arms, she is forced into a centuries-long struggle against the gravest enemy of all Fae-kind—the very enemy that left her orphaned. In order to save her people, Luna must rewrite their history by entering a door in the mountain and passing back through time. But when the lives of those she loves come under threat, her rage destroys a forest, and everything in it. Now called The Char Witch, she is cursed to live alone, her name and the name of her people forgotten.

Until she hears a knock upon her long-sealed door.

Interwoven with elements of Hansel and Gretel and The Seven Ravens, Char is the stand alone sequel to Opal, and second in the Fae of Fire and Stone trilogy.
Ash by Malinda Lo
Category: LGBTQIA
Retelling of: Cinderella
Format: Paperback from library (assuming I can access the damn thing)
In the wake of her father's death, Ash is left at the mercy of her cruel stepmother. Consumed with grief, her only joy comes by the light of the dying hearth fire, rereading the fairy tales her mother once told her. In her dreams, someday the fairies will steal her away, as they are said to do. When she meets the dark and dangerous fairy Sidhean, she believes that her wish may be granted.

The day that Ash meets Kaisa, the King's Huntress, her heart begins to change. Instead of chasing fairies, Ash learns to hunt with Kaisa. Though their friendship is as delicate as a new bloom, it reawakens Ash's capacity for love-and her desire to live. But Sidhean has already claimed Ash for his own, and she must make a choice between fairy tale dreams and true love.

Entrancing, empowering, and romantic, Ash is about the connection between life and love, and solitude and death, where transformation can come from even the deepest grief.
The 99th Bride by Catherine F. King
Category: Non-Western
Retelling of: 1001 Nights
Format: eBook
"When the Sultan has arrived and is at ease, ask that I tell you a story. Do you like stories?"

Dunya is just fifteen years of age when her father, the Grand Vizier, gives her over to the mad Sultan for his bride. Ninety-eight Sultanas before Dunya have been executed, slaughtered at the break of dawn following their first night with their new husband. But on her own wedding night, the ninety-ninth bride finds help from the mysterious and beautiful Zahra, who proposes to tell the Sultan a story…
Hunting Monsters by SL Huang
Category: Small Publisher
Retelling of: Red Riding Hood
Format: eBook
"Happy birthday, child. Careful not to shoot any grundwirgen."

Ever since she was a small girl, she has learned to be careful on the hunt, to recognize the signs that separate regular animals from human-cursed grundwirgen. To harm a grundwirgen is a crime punishable by death by the King's decree – a fatal mistake that her Auntie Rosa and mother have carefully prepared her to avoid.

On her fifteenth birthday, when her mother is arrested and made to stand trial for grundwirgen murder, everything she thought she knew about her family and her past comes crashing down.

Auntie Rosa has always warned her about monsters. Now, she must find and confront them to save her mother, no matter the cost.
Fairest by KS Trenten
Category: Wildcard (Published 2016/LGBTQIA/Small Publisher)
Retelling of: Sleeping Beauty
Format: eBook
On the eve of my sixteenth year, I'm cursed to prick my finger on spindle and fall into a hundred year sleep. This is what the witch with the snow white skin and haunting dark eyes promised me, as I lay in my cradle. I haven't been able to get her out of my mind, since. She haunts my dreams, steals into my quiet moments, when I think I'm alone. Everyone thinks she's my enemy. Everyone thinks I need to be protected from her. I can't think of her as an enemy, no matter what anyone else thinks. Who is she, truly? The only name she's ever been given are a few, enigmatic words. The fairest of them all.
All the eBooks listed above I found to be reasonably affordable on Amazon, at least on the Australian version of the website.
I have already read two books listed in the challenge: And I Darken by Kiersten White and The Song of Achilles by Madeline Miller. I might reread them for the challenge, life permitting, but I'm prioritising books I haven't read before.
There are a few other books from the various categories I've been meaning to read, but affordable access is proving difficult (though The Weight of Feathers hardback (PoC protagonist) is heavily discounted on the Book Depository at this time of writing so maybe I can get that one). This is what I get for buying a crapload for books before I'd even heard there was going to be a reading challenge!
EDIT: Just got my hands on this one (electronically)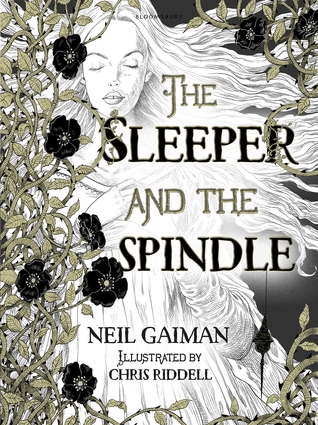 The Sleeper and the Spindle by Neil Gaiman and Chris Riddell
Category: Wildcard (LGBTQIA)
Retelling of: Sleeping Beauty
Format: eBook
A thrillingly reimagined fairy tale from the truly magical combination of author Neil Gaiman and illustrator Chris Riddell – weaving together a sort-of Snow White and an almost Sleeping Beauty with a thread of dark magic, which will hold readers spellbound from start to finish.

On the eve of her wedding, a young queen sets out to rescue a princess from an enchantment. She casts aside her fine wedding clothes, takes her chain mail and her sword and follows her brave dwarf retainers into the tunnels under the mountain towards the sleeping kingdom. This queen will decide her own future – and the princess who needs rescuing is not quite what she seems. Twisting together the familiar and the new, this perfectly delicious, captivating and darkly funny tale shows its creators at the peak of their talents.

Lavishly produced, packed with glorious Chris Riddell illustrations enhanced with metallic ink, this is a spectacular and magical gift.
And there are a few others I wouldn't mind reading, if I can get my hands on them, which is debatable.